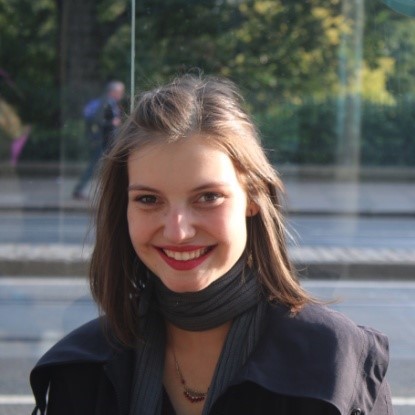 Julia
My name is Julia, I am a teaching student from Germany, Leipzig. During my gap year, I moved to Bucharest and volunteered in the Smart Kinder Villa from September 2017 until June 2018.
I had the most amazing time with all the children, becoming more like a big sister than "just" someone who marks their homework. Together we practiced for tests, completed extra tasks to deepen their German knowledge, played games in the yard or hide and seek in the Villa. I especially enjoyed teaching Yoga to them in the sports room, or painting mandalas together, which they absolutely loved. I always made it a priority to talk to them as much as possible, in order to make them sensitive to the German accent and help with their speaking practice.
Now, when I come back to Bucharest, I always make an effort to visit Smart Kinder Villa to see how everyone is doing and to spend some time with the kids, who are always happy to see me.
I really hope I can be back as soon as possible!
Miriam
My name is Miriam, I´m from Germany and today 22 years old. Last year in March, I spent a month doing an internship at the Smart Kinder Villa after school.
While studying social work, I valued the experience I made with the children in this unique international context. My tasks at the school were quite versatile. From teaching English once a week, over playing with some of the youngsters during their breaks, to overseeing a group and helping them with their studies, I could find my tasks as time passed by. I was never pressured to do anything I wasn´t comfortable with and I could always seek advice when needed. Altogether, I always felt welcome at the school, therefore I can only recommend to everybody to make a journey to Bucharest and spend time with these amazing people.
Mareike
My name is Mareike, I am 20 years old and I come from Güstrow, a very small town in north-east Germany. My hobbies are playing theater, swimming, hiking and reading.
I started my studies in pedagogy and psychology last year, after my wonderful gap year, which was filled with plenty of adventures and experiences. I did a lot of traveling and volunteering and I also had the chance to come to Bucharest and to help the after school programme in Smart Kinder Villa. I only stayed for two weeks at the school, but it was still an intensive time, where I learned a lot! I was able to make a lot of practical experience and to spend a lot of time with the kids. I helped them with their homework and spoke a lot of German with them. We also did a lot of art together, we did quite some drawing and painting. Furthermore, we played a lot of games as well, after the homework was done of course.;) We had a lot of fun! My two weeks at the school were a beautiful experience, the children were so nice and friendly, I really did enjoy the time with them – I am very grateful for this pleasant stay!
Nina Lili
I'm Nina Lili, a twenty year old volunteer from Leipzig, Germany with a great interest in languages. In autumn last year, I spent two months at the Smart Kinder Villa in Bucharest. I immediately bonded with the staff and teachers, but most importantly with the children, who were full of energy and eager to learn. They made me feel like a member of the family.
During my stay, I helped with homework, had conversations in German and supervised the students. We ate lunch together, played typical German games and had lots of fun drawing. I remember making Mandalas and printing them out or getting my hair braided by the girls. Each day was different. Looking back, I realised why working with children is so great. You can learn a lot about patience, friendship and communication from them. It wasn't easy to say goodbye, but I am looking forward to coming back!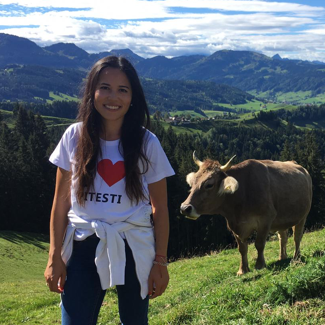 Rebecca
I'm Rebecca and I'm from Switzerland. I love travelling and getting to know other countries and cultures. Taking a break from my law studies, I decided to volunteer at the after school program for about three months (November 2018 – January 2019). During my time there, I helped out where I could and where I felt my assistance was most needed. My activities included supervising the children during lunch and play time, helping out with homework during the classes and of course, playing and talking with the children in German. For example, I soon found out that the little ones loved drawing and coloring, so I often found myself drawing and then photocopying the drawings for the kids to color them. Some liked playing board games, others loved telling me every detail of their weekend (in German, of course) or playing me songs on the guitar. It was a good and instructive experience, with a lovely team :).